---
Restaurants and Cafés
Continental Pub & Garden (5-minute walk)
Continental is right around the corner, and if you walk through their bar section past the a pool table, you will arrive at a nice back garden section with a fire pit. They serve all your tasty classics (burgers, pizza, seafood, steak), and if you are lucky the bar tender might even be around to mix you a cocktail.
Pizzarella (15-minute walk)
This beach-side outdoor restaurant offer the best wood-fired pizza in town (they also do take away) and a lovely rustic atmosphere, thanks to their many plants, trees and fairy lights.
If you are lucky, you may even find a free table at their lookout spot, where you can eat your pizza while admiring the views over the beach and the lagoon.
In case you're still hungry for dessert, you can get a waffle at their waffle hourse.
Pizzarella is a self-service kind of place, so don't expect attentive table service. On the plus side, although they do have a selection of beers and wines, you may bring your own booze (no corkage is charged)! They will even lend you mosquito spray if you forgot to bring it.
The House Kitchen and Cellar (7-minute walk)
You will find the House Kitchen and Cellar just past the SPAR, at the back of a house interiors shop. This is a daytime place, as it closes at 5 pm.

If you're lucky and it isn't too hot, you can sit on their terrasse and enjoy the lovely view, but they also have indoor seating. They serve a great cup of coffee and are a very popular spot for Saturday breakfast and lunch. They also have Wifi, though it is not very fast (don't try to take a Zoom call from there).
---
Shopping
Groceries
The closest grocery store is the SPAR on Kenton Road, and it is only a few minutes away by foot. It has all the basics you will need, although the fresh produce available varies day by day.
If you are looking for something special that you can't find in the Kenton SPAR, then you may get lucky at the large SPAR or small Woolworths Food at Rosehill Mall by Port Alfred. The mall is about a 20-minute drive from Kenton-on-Sea and you may even spot some wildlife on the way.
Alcoholic beverages
SPAR does not sell any alcohol, but generally you will find a TOPS next to or even within every SPAR. In Kenton-on-Sea, the TOPS is inside the SPAR to the left, where you can find great South African wines and any other booze you might need if you feel like being adventurous (see our Cocktails section).
Clothes, books and everything else
There are not many shops in Kenton-on-Sea (any shops that do exist can be found on Kenton Road), but luckily you will find just about anything you need online. Many online shops will deliver directly to your door (e.g. takealot).
If you want to go to an actual physical shop and you have a car, then you can go explore Rosehill Mall, Port Alfred, or maybe take a day drip to the big city of Port Elizabeth.
---
Excursions
Game viewing
Sibuya Game Reserve
Sibuya is a large game reserve further inland on the Kariega River. They have various types of antilope and birds, as well as several rhino, elephants, giraffes, and even lions (if you're lucky enough to see them).
Sibuya offer various types of day trips, all of which include being picked up - and brought back - by boat at the reception in Kenton-on-Sea (so you don't even need to have a car!). The boat ride up the Kariega river takes around 45 minutes, at the end of which you will start with the guided game drive, followed by a buffet lunch.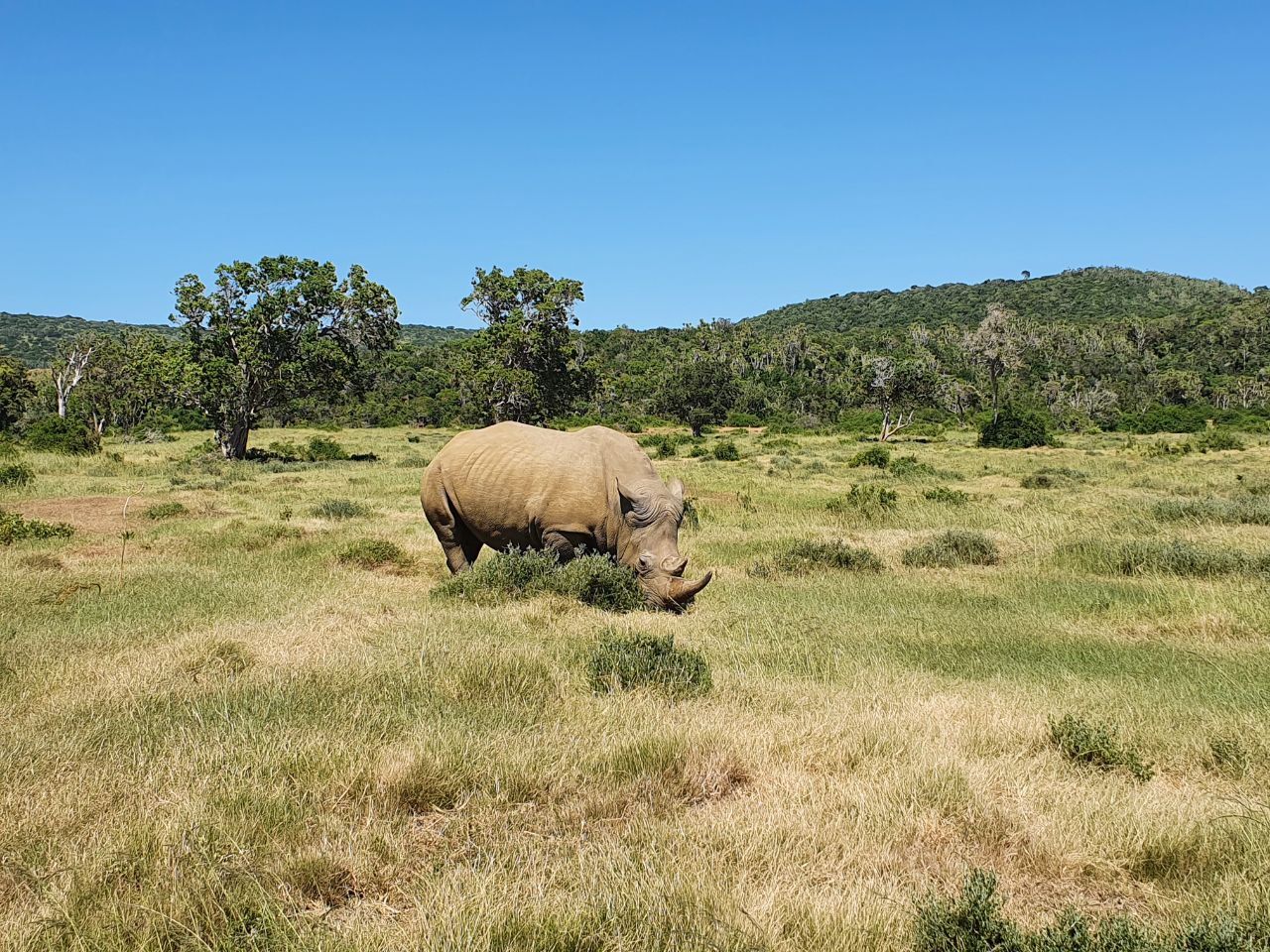 Addo Elephant National Park
If you have a car and you're up for a longer drive, then we highly recommend Addo Elephant Park, which is 1,5 hours from Kenton-on-Sea. It is best entered through the South Gate by Colchester. On the drive to Colchester, we highly recommend stopping at Nanaga Farm Stall, which is famous for its pies. They also have really good coffee. Once at the South Gate, you will need to register (bring your passport), pay the entrance fee (per person) and you will then receive a map of the park.
Addo is a self-driving game park, and it has so many elephants that you are nearly guaranteed a sighting. As you explore the various roads by car (getting out is not recommended unless you want to be eaten by a lion), you will likely also see lots of other animals such as Zebra, Impala and Kudu.
In the North of the park at Main Camp, you will find a gift shop, a restaurant (in case you didn't buy a picknick at Nanaga), and the Underground Hide.
If you are still up North at time of leaving and are in a hurry, you can take the R342 to Paterson and then the N10 back down to Nanaga. Because the N10 is quite dangerous, however, we recommend making sure that you have enough time to drive back down through the park to exit at the South Gate.