---
Kenton-on-Sea has some of the best beaches in South Africa (or actually in the world, though you might not believe us until you see them in person). Better still, they are barely used. Outside of peak times (Christmas, Easter, New Year), you will feel like they are your own private beaches.
Kenton-on-Sea sits between two rivers – Bushman's and Kariega. Each of these runs into the ocean and they form a natural boundary on either side of the village. Each river also forms a beautiful, calm lagoon – perfect for a casual swim away from the larger waves of the ocean.
From Aztir House, you can walk down to middle beach in about 10 minutes, and from there walk over to either Kariega beach or Bushman's. Or take a 45 minute or 90 minute long walk to do a half or full loop and see all the beaches described below.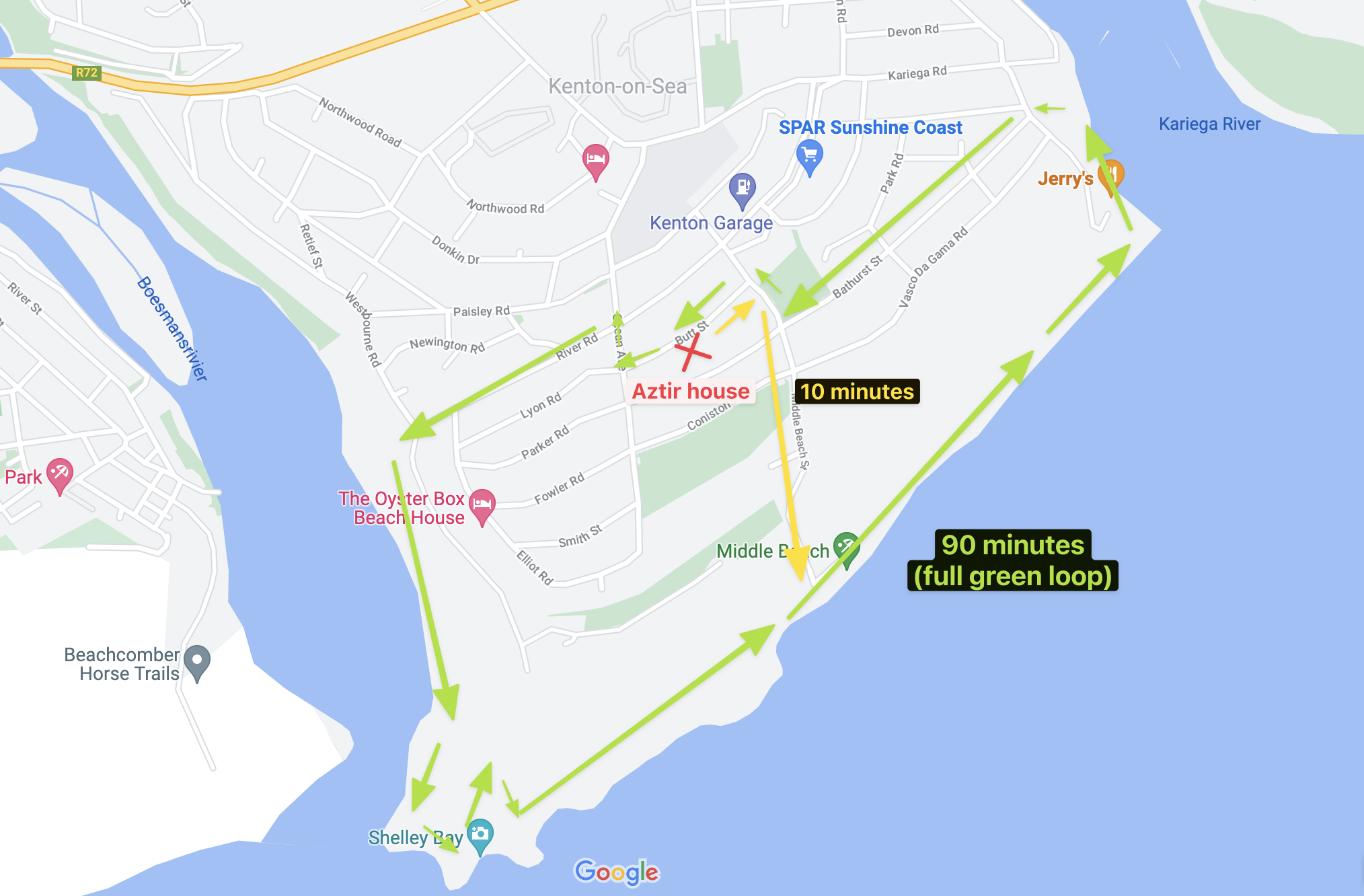 Bushman's Lagoon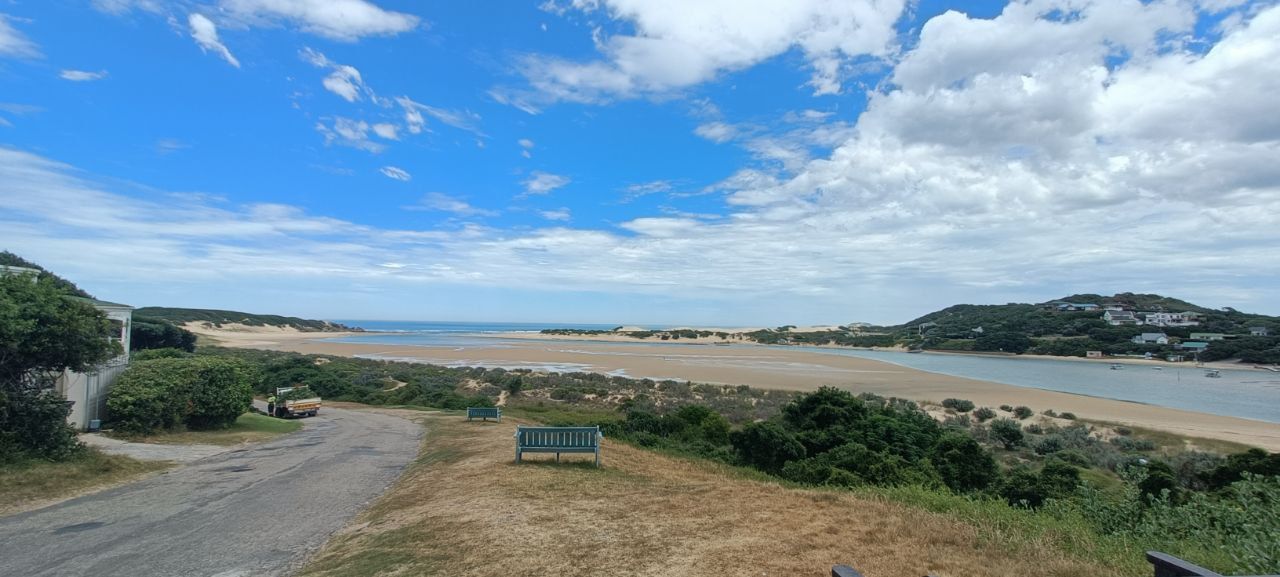 Walking along the ocean from the Bushman's river to the Kariega river (or vice-versa) gives you a wide variety of beaches, each with their own advantages. From the Bushman's side, you'll find Bushman's lagoon, a popular spot for families. There is space to park a car along the road, and several pathways down to the lagoon.
At low tide, you can walk along to some small beaches, hidden behind some rocks. At high tide, you'll need to take the hidden paths among the sand dunes and do some light rock climbing to find these.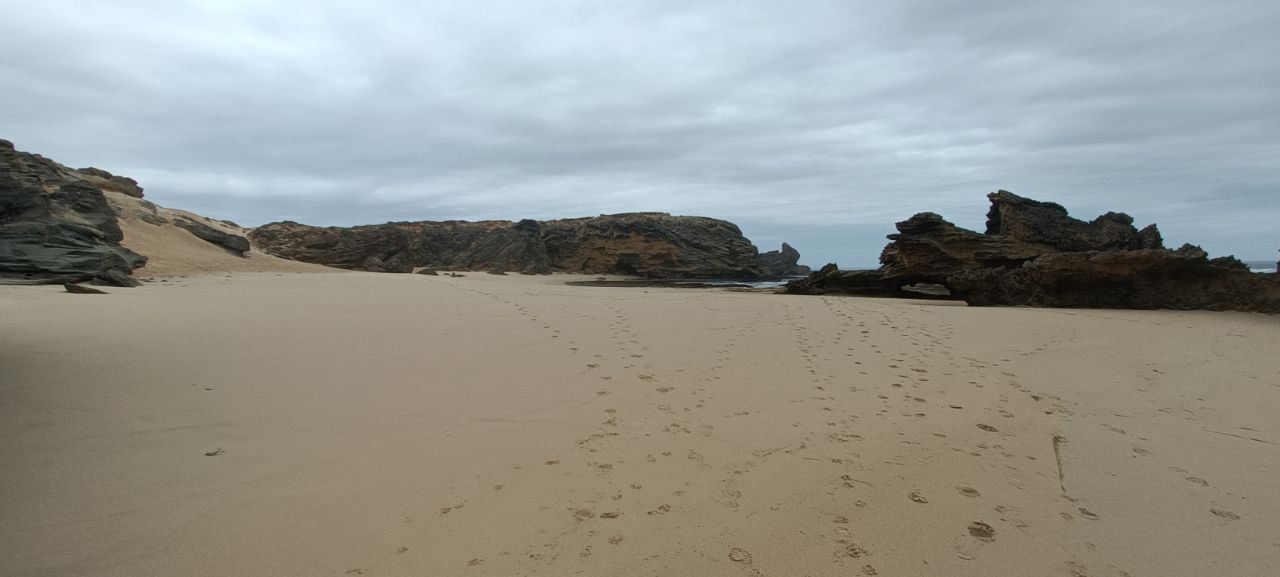 Secret Beach
Perhaps the worst-kept "secret" Kenton-on-Sea has to offer, as locals and visitors alike know that it exists. Nonetheless, it keeps its name as it takes a bit more dedication to access. Even at low tide, the rock walls on either side prevent access to casual walkers, and you'll need to climb up a sand dune and find the path down onto the beach if you want to take advantage of it.
Once you're in, you'll can use the steep walls as shelter from any wind and the sun. There's also a natural tidal wall, making the ocean in this area calmer and a great place to swim.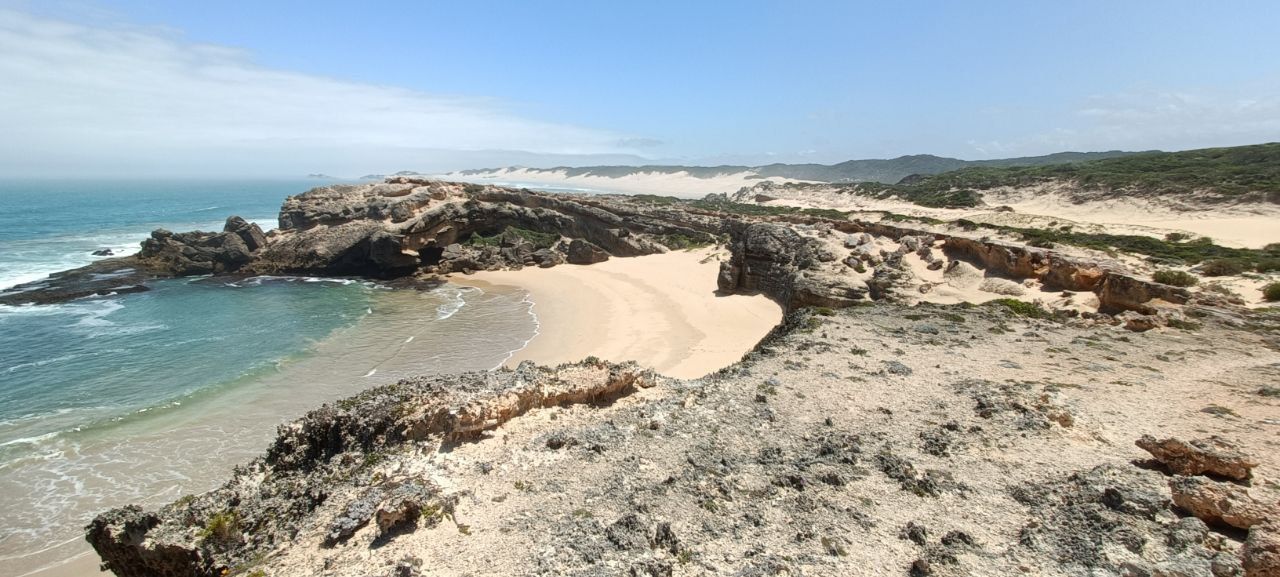 Between Secret and Middle Beach
If you continue walking past secret beach, you can instead come down onto a sandy strip with a few sheltered areas and some beautiful rock formations. At low tide, you can walk through the distinctive "Carriage Rock" that has been hollowed out by centuries of waves and wind.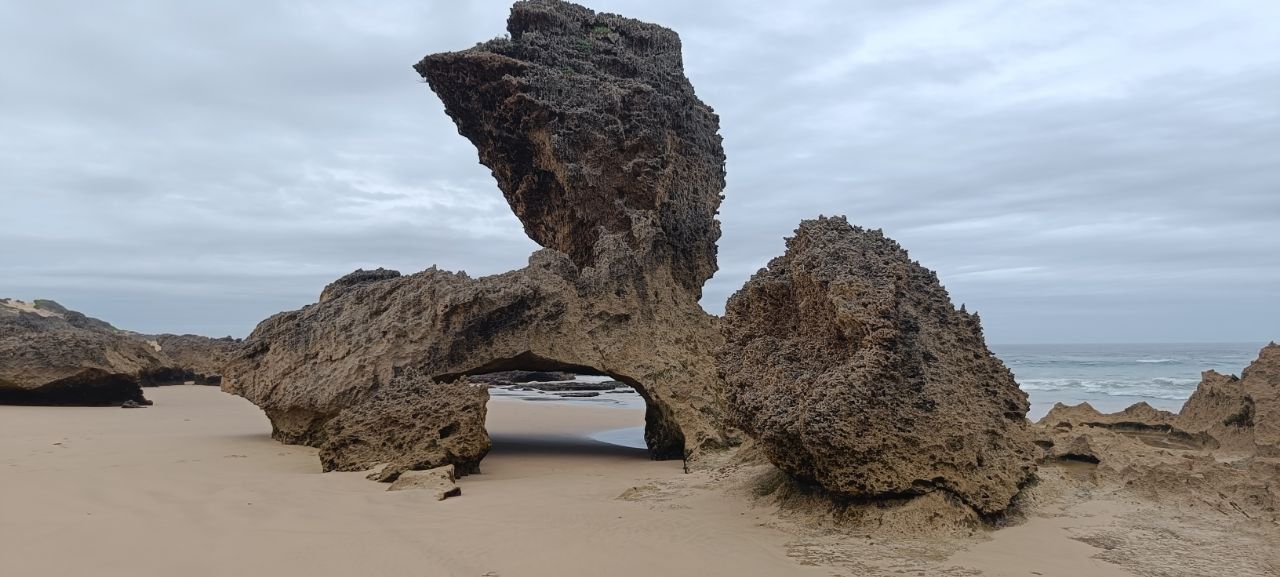 You'll also find some large open stretches that you'll likely have to yourself.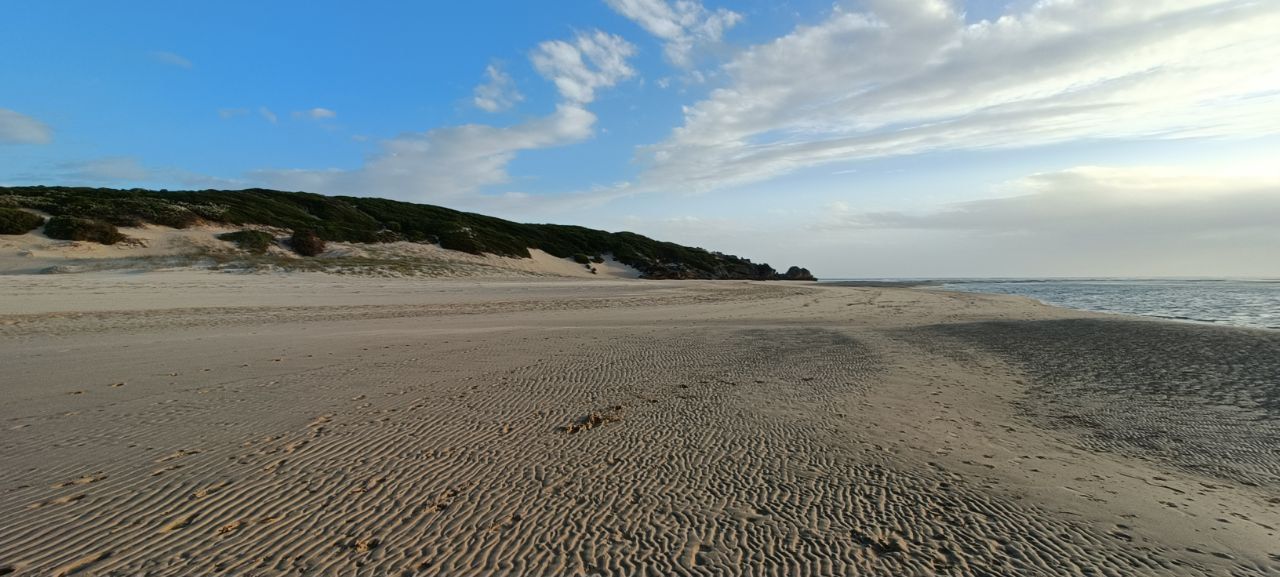 Middle Beach
Middle beach has a parking area and boat ramp, and is often more crowded than the others due to its easy accessibility. At low tide, there are many rock pools where you can walk and spot sea life.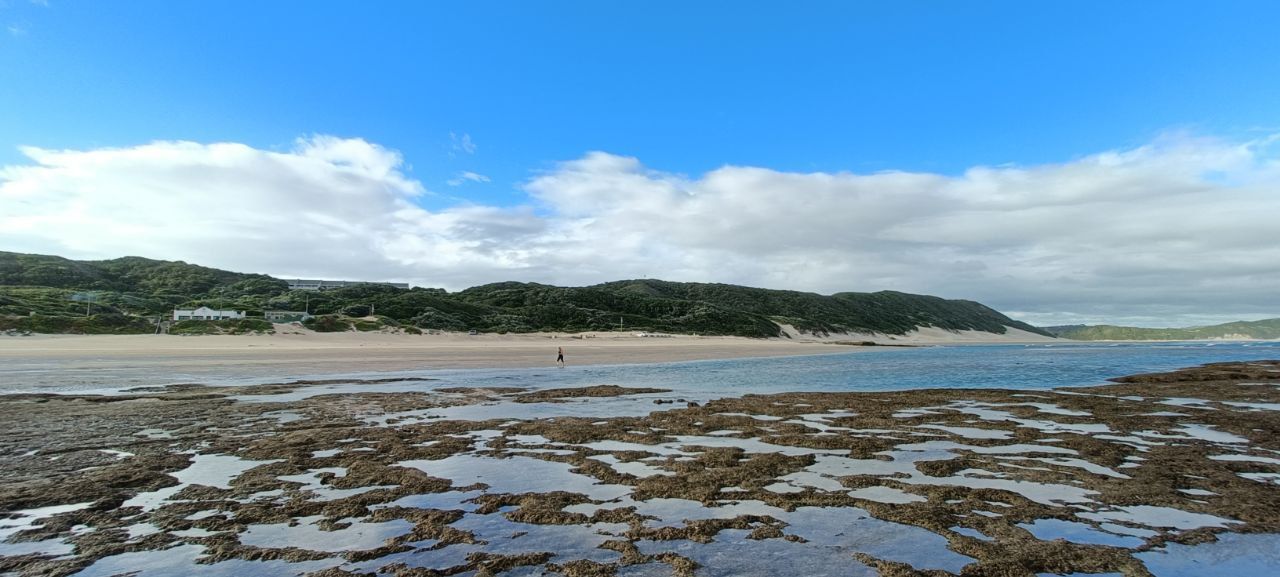 There are toilets by the car park, and sometime a coffee and food truck in high season.
Kariega beach and lagoon
A 'blue flag' beach, Kariega is a large beach, and one of the nicest in the world. There are life guards on duty so you can swim in the waves without worrying about drowning (note that life guards only watch the area between the designated flags).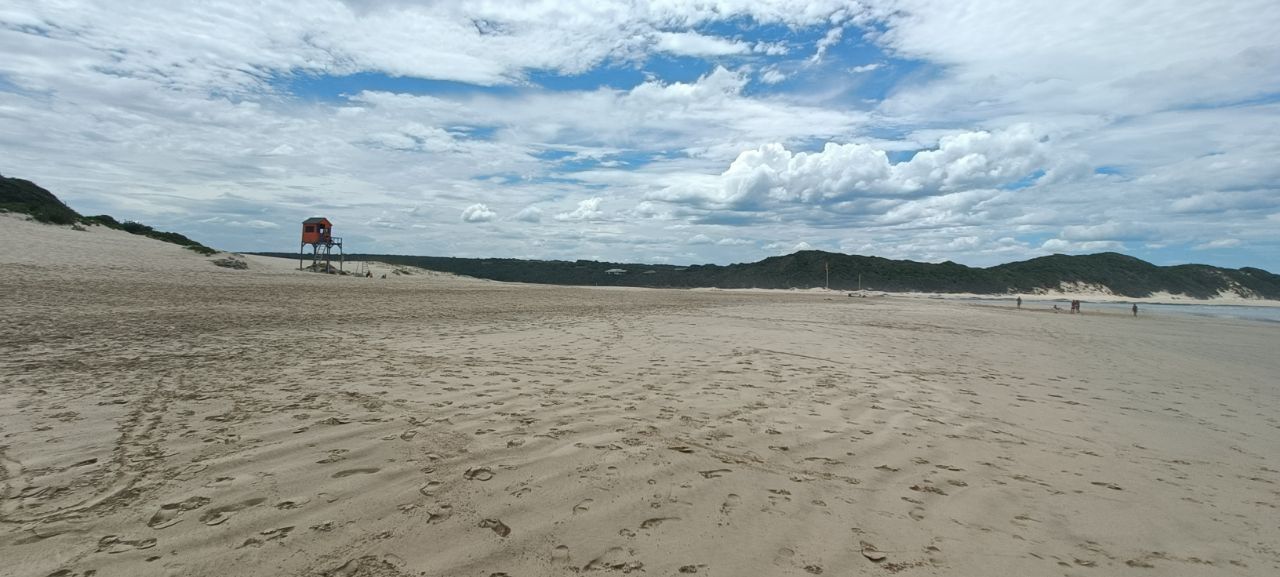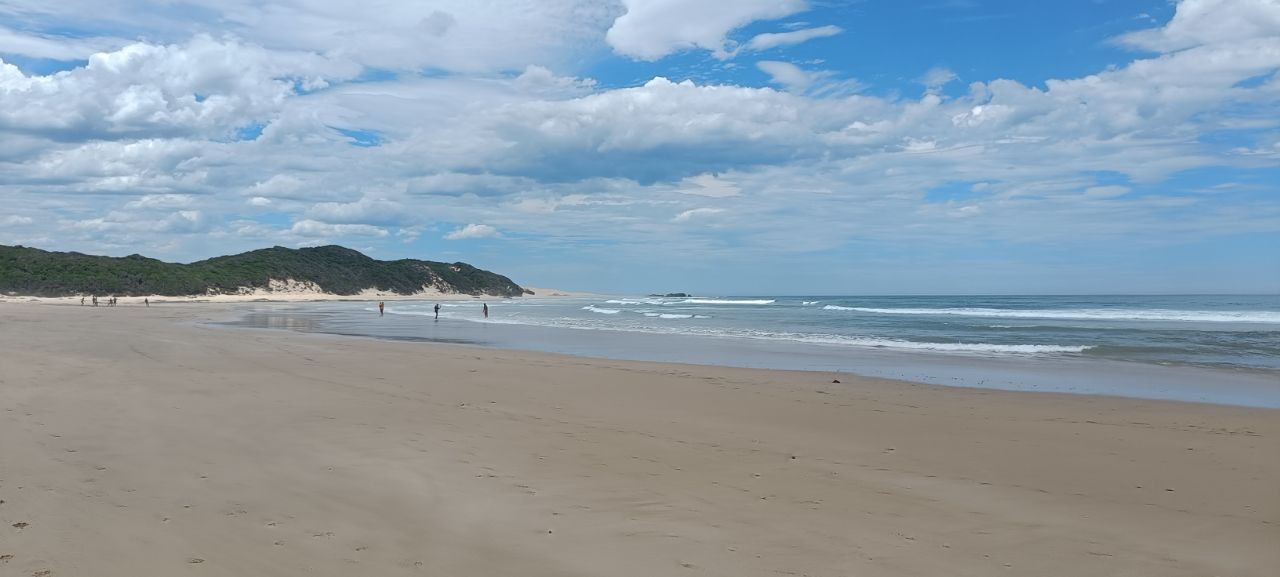 If you prefer quieter (and often warmer) water, the lagoon is just a few minutes further along. Its shape and size changes drastically with the tide, so if you stay a while you'll get to know it in its different forms.
---