CAPE TOWN VS JOHANNESBURG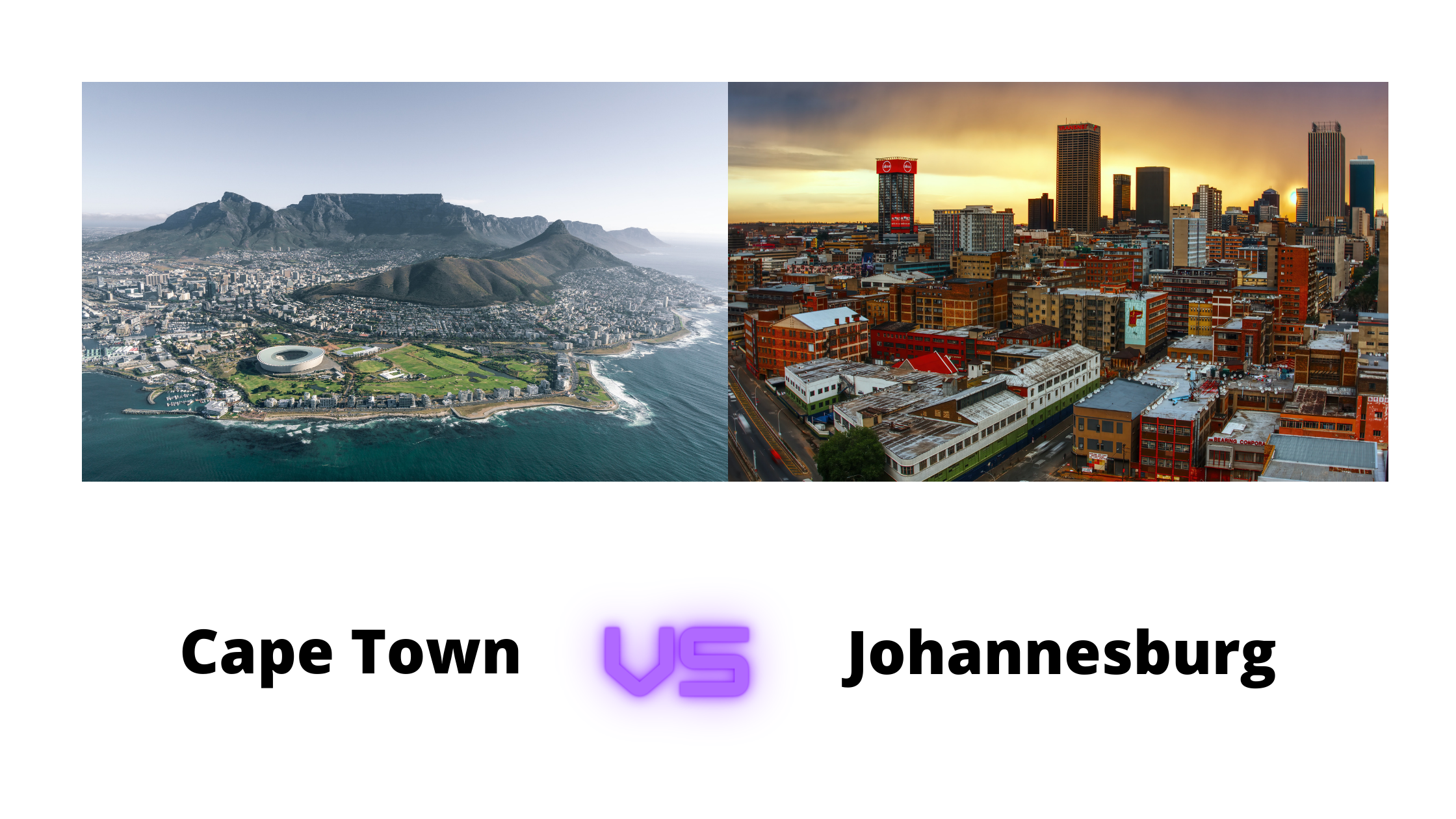 With the rise of the digital nomad era, the hunt is on for the best places to set up (temporary) shop. A home base to do your remote work in peace that still offers an intrepid traveler many opportunities to explore, learn new skills and make memories.
The Two most popular cities in South Africa for digital nomads are Cape Town and Johannesburg. Being so vastly different from each other, these cities each offer a completely unique experience to short and long term travelers.
So which city would suit you best, you ask? Let's break it down according to some of the necessities:
LIFESTYLE
In terms of lifestyle & #Vibe (as the kids would say) these Two cities are on opposite ends of the spectrum. Cape Town locals describe their city and each other as laid back, slow paced and generally a happier bunch while Joburg locals live at a faster pace. They have a work hard, play hard mentality and generally enjoy the finer things in life.
COST OF LIVING
According to a recent Careers24 statistic, you can expect to earn a higher salary in Joburg but will also pay more for groceries and basic necessities, 11.82% more. This is balanced out a bit by the fact that housing is slightly cheaper in Joburg as Cape Townions generally pay 15% more on rent per month.
ACTIVITIES
While Joburg can't compare with Cape Town's beaches, mountain hikes and wine tasting venues, don't count it out just yet. Gold Reef City offers a casino, theme park and theater. There are also many guided tours through Soweto as well as other Apartheid memorial sites. The nearby Sun City resort is about as close to a beach as you'll get but their water park is world class and almost as good as the real thing. Both cities offer many shopping centers that cater for all budgets.
SCENERY
There really is no competition in this category as Cape Town boasts some of the most spectacular landscapes in the world while Joburg locals have been known to complain about their "dull" surroundings. With Cape Town's scenic roadways, mountains and seaside views, no matter where your camera lens turns, you're bound to capture a great shot.
SAFETY
Let's not sugar coat it, no matter where you stay in South Africa, crime is a part of life. Although local police forces do give popular tourist destinations a higher priority when it comes to crime prevention, it is always wise to be vigilant. Both Cape Town and Joburg feature high on the list of World's most dangerous cities but most tourist spots only experience opportunistic and petty thefts. This can be said for most cities around the world so don't let it stop you from visiting.
Whether you're a go-getter girl boss ready to jet set off to Joburg or a laid back surfer dude chilling in Cape Town, one thing is for sure: South Africa definitely has something special to offer you!