South Africa's best kept secret - PART 1
When you think of South Africa, you generally think of Cape Town, Johannesburg or wildlife reserves. These are all great things but it's just the tip of the iceberg.
There are some hidden gems around the country that can offer everything the big cities can provide and more. You'll have less crowds, more safety and have a much more enriched experience. Here are a few small towns to check out:
Western Cape:
Franschhoek
Situated just 1 Hour from Cape Town, Franschoek is the ideal luxury getaway spot for many locals as well as visitors. Best known for it's vineyards and restaurants, Franschoek also has many boutique shops for home decor, jewelry and gifts. You'll find several 5 star hotels and elegant B&Bs and many places for wine tasting experiences.
Car enthusiasts will enjoy the Motor museum which showcases 100 years of motoring history and fitness buffs will love the vineyard cycle tours or the winelands meander.
Hermanus
This small coastal town is a popular, family friendly holiday destination. Offering a wide variety of activities to suit all age groups, budgets and preferences, there truly is something for everyone. The sea beckons all nature lovers to partake in swimming, fishing, whale & shark viewing tours while the mountains await hikers and walking enthusiasts. Kids will love the beach, the Pirate themed mini golf course and the local animal petting zoo. The artistic souls will love the art walk that takes place on the First Friday of every month where over 20 art galleries open their doors to the public for an evening stroll through the village.
Tulbagh
Take a walk back in time to when ox wagons were the preferred mode of transport, when the main occupation was farming and when people were friendly and community orientated. That's what you'll find in Tulbagh. Dating back to the 1700's this small town is bursting with history. The town's main street, Church street, is lined with old buildings with amazing architecture which has recently undergone a complete restoration and is now a national monument.
Enjoy the peace and tranquility of this quiet "Dorpie" and take time to walk along the mountain paths, soak up the fresh air and enjoy learning about the history of the area from One of Four museums.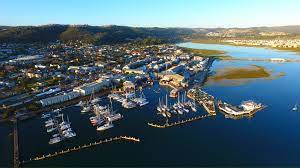 Knysna
Knysna is a relatively small town that is ideally located alongside a lake, right next to the ocean and surrounded by mountains and forests. The local scenery is enough to take anyone's breath away. The locale also provides many opportunities for tourism activities such as boating trips, hiking, golf courses, wild life parks and forest tours. to name but a few.
One of the top annual attractions is the Pink Loerie festival. Held in May, each year sees this Pride type festival growing from strength to strength and has become one of the biggest events on the LGBTQ+ community calendar. A must to experience.