The ULTIMATE digital nomad accommodation is floating towards you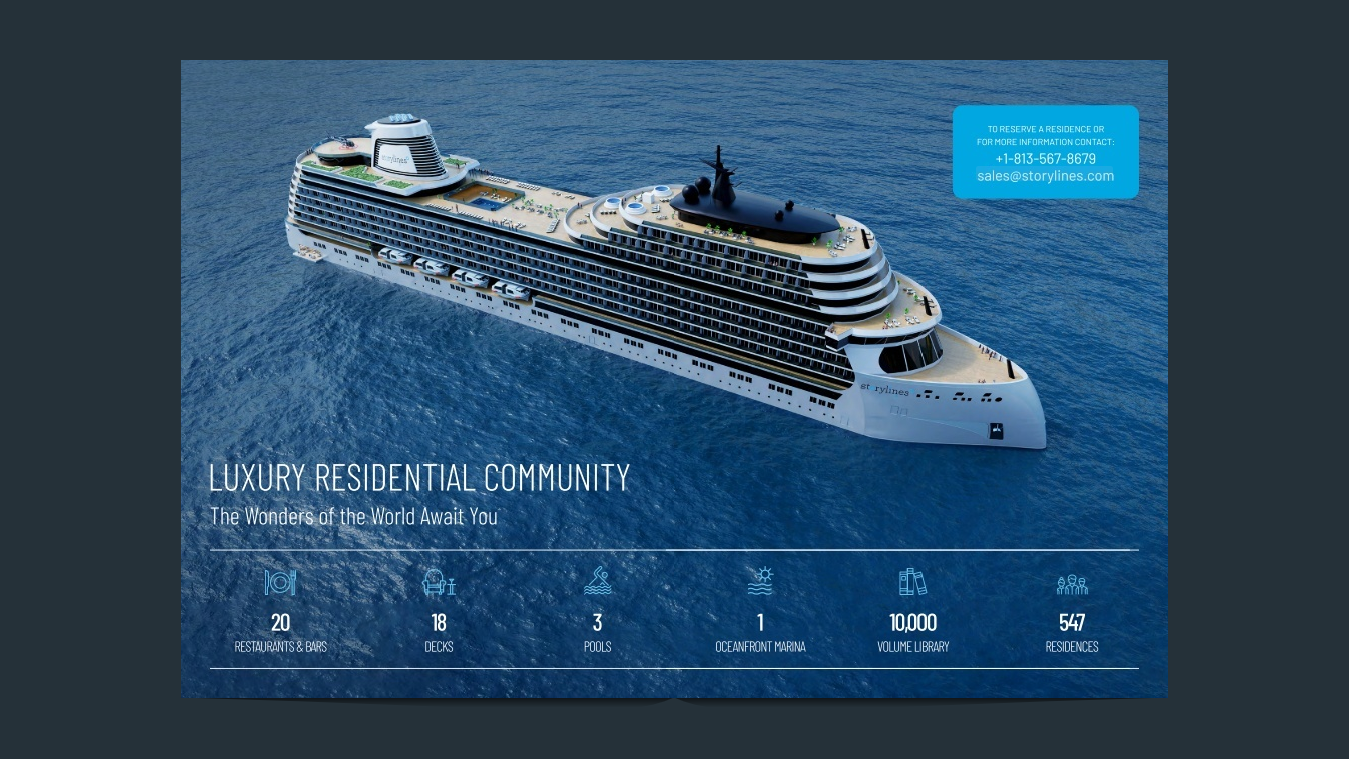 Are you looking for a more refined way of travelling the globe? Maybe you're tired of staying in dodgy Airbnb's or dingy back packers.
Well, we have found the best possible solution - The Storylines cruise ship!
This is like no cruise ship that ever existed; It has everything a normal luxury ship offers with the added benefit of 547 luxury permanent residences, world class schooling facilities for kids, various suite layouts to suit every need, a 10 000 book library, and the opportunity to have a say in where you go to next. Sound good? Here's more info:
The basic idea
Storylines gives you the opportunity to buy a residence onboard the ship, where you can live permanently or come and go as you please. Should you choose to stay for a short time, you can rent out your unit as you would any other house. While on board, you can take advantage of the laundry service, gym facilities, restaurants, entertainment, medical check-ups, super fast internet and premium satellite TV. All of which is included in the price.
Travel destinations
Travel the world with stops in every major port along the way. Cruise around the Mediterranean for 3 months and enjoy extended stops in places like Rome (3 days), Messina (2 days) Palermo (4 days), Venice (5 days), Split (2 days) and Gallipoli (1 day). Residents can also vote for their choice of destination along the way.
Schooling
The ship is home to Four highly trained teachers who host small groups of learners of various ages, including an early education pod from 3 - 6 years, an elementary pod for 7 - 11 years, middles pod for 12 - 14 years, and high school pod for 15 - 18 years. Each pod meets 1 - 2 days per week with lessons focused on subjects based on the ship's current location. The rest of the week, children are free to follow a personalized homeschooling curriculum that enables them to keep their own pace and choose their own schedule. There are also various field trips planned for port stops.
There are currently about 50 children on board with an average of 12 children per group so lessons are intimate and each child gets individual attention.
Community
Become a global citizen and enjoy spending time with like-minded individuals following a similar path as you. There are groups of people from all generations, classes, ethnicity and cultures. Take the time to learn from each other and share experiences from different points of view.
Entertainment
There are many onboard entertainment options to keep you busy. From golf simulators, dance floors, cooking classes, access to movies, musics and books, crafts and a hobby lounge. You are even welcome to start your own club. Have a passion for chess, photography or wine? Why not start your own club and invite other residents to join? Onshore entertainment can also be arranged with lectures on local history, architecture and fauna & flora.
The ship is also home to a spa and wellness center where you can enjoy a state-of-the-art gym, indoor pool, full service salon, juice bar and relaxation rooms.  All residents have access to the team of personal trainers, live fitness classes and on demand content.
Medical
You can feel secure in the knowledge that should a medical emergency occur, the team on board are more than capable of caring for your needs. They can assist with all pharmaceutical requirements you might have as well as travel vaccinations and nutritional advice. Storylines has also partnered with a leading travel insurance company to offer residents the best comprehensive travel insurance possible. So no matter where you are in the world, medical assistance is available to you.
How great does that sound??
Prices for these luxury residences range from $875 000 - $8 Million. You are able to choose your own layout from a variety of designs which are available to preview on the Storylines website. Feel free to take a virtual tour of the ship as well by clicking here.